Secure your finery with flexible payment methods.
Decided to purchase a milestone jewellery piece? We're thrilled for you! Read on to learn how you can shop with confidence.
FAQs
How can I pay a deposit on a Bespoke engagement ring or wedding band?

We only require a 50% deposit to get started on your bespoke ring. If you're shopping online & would prefer not to pay all at once, reach out to us and we'll send you details on how to pay for your deposit only.
Can I lay-by a ready-to-ship item?

Absolutely! We offer lay-by for all online and in-store purchases over $450. You can secure your purchase with a 30% non-refundable deposit, and pay over time. Simply contact us for more information (we recommend phoning the boutique where the item is located to ensure a speedy response).
Can I split my deposit or purchase across multiple payment methods?

You can, indeed. In fact, many people prefer to use a variety of payment methods to pay a deposit on a bespoke or lay-by order - such as splitting a 50% bespoke deposit across bank deposit and AfterPay.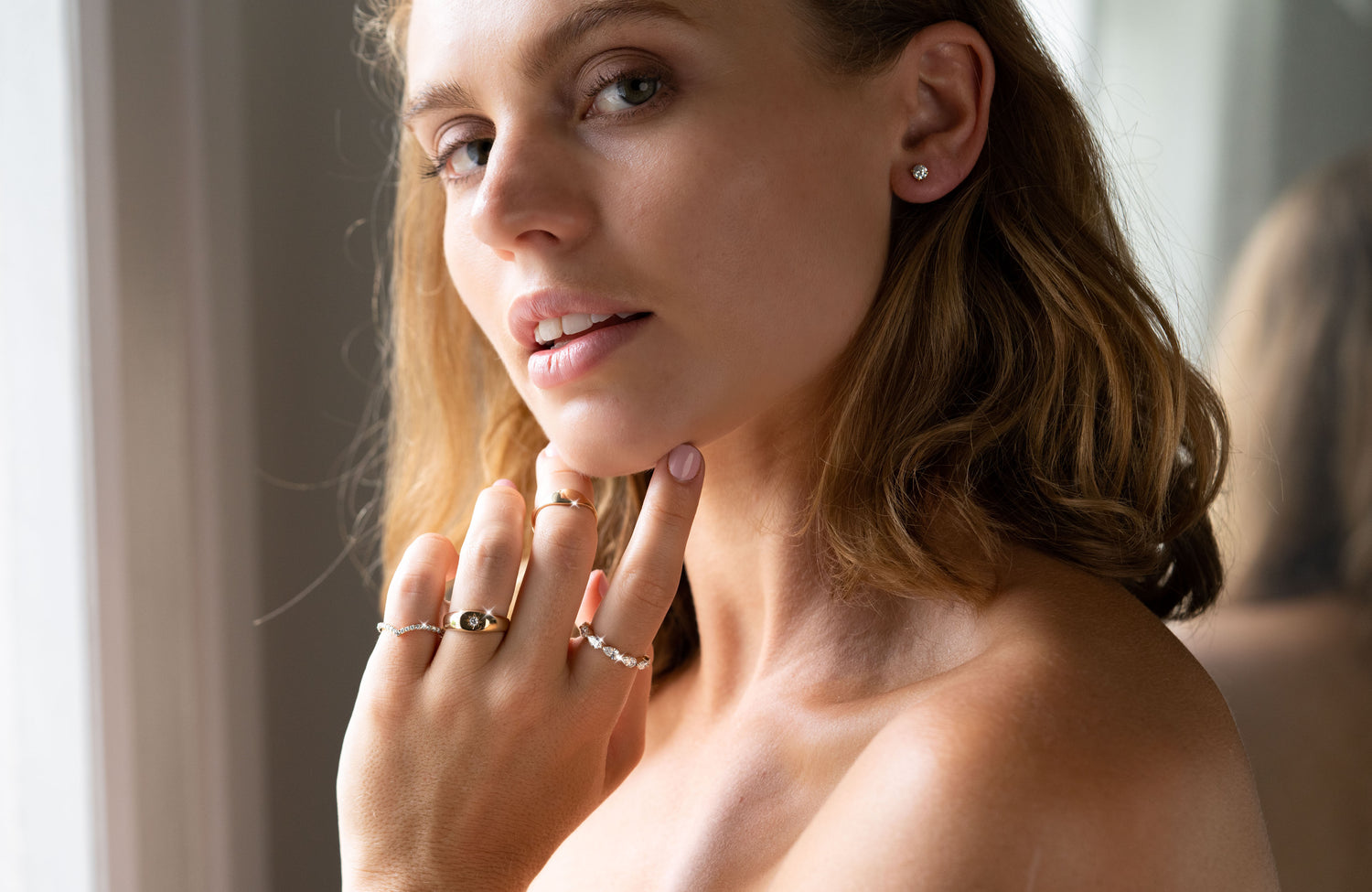 Get store credit for recycling your unwanted jewellery.
Join 100's of our customers who have paid for some (or all!) of their purchase with store credit from Gold Swap.
Get your free Swap Pack
Drop off in store

Pop by anytime during our trading hours to drop your jewellery off for testing. You'll hear from us at every step as we courier your jewellery to our assay lab for testing and have a credit offer sent your way.

Find a store

Mail in for free

Posting your jewellery to us is fast and easy. We'll send you a Swap Pack with a discreet padded satchel and a reply-paid postage label. All you need to do is pop your jewellery into the satchel, seal and pop it into an Australia Post post box.

Get your free Swap Pack
How does it work?
How can I submit my jewellery for a Gold Swap?

Pop into any of our boutiques with your gold jewellery and check it in with our team who will securely transfer it to our gold-testing lab. We'll then send you updates and your obligation-free swap offer via email.
What kind of jewellery can I submit?

We accept solid gold jewellery (yellow, white or rose gold) in any condition. We are unable to accept silver, gold filled, gold plated or gold vermeil jewellery.
Where can I use my Gold Swap credit?

Your Gold Swap credit is redeemable at all Molten Store boutiques and the Molten Store website.
I'm not sure if my jewellery is solid gold, how can I tell?

Solid gold jewellery will be hallmarked, often with a 375, 9ct, 9k, 18ct, or 585. There are countless gold hallmarks in circulation, so if you spy any mark that is not 925 (the hallmark for sterling silver), we recommend submitting the piece for testing. You might be sitting on a literal goldmine.
Do I have to spend my credit all at once?

Not at all! Your store credit is valid for three years and can be redeemed in any increment for in-store, online, or bespoke purchases.
How quickly will I receive my store credit offer?

We test our Gold Swap submissions within a day or so of their arrival at our lab, so you can expect to receive your exciting store credit offer within days.
Start your wishlist
Regular price

Sale price

$118 AUD

Unit price

per

Regular price

Sale price

$4,920 AUD

Unit price

per

Regular price

Sale price

$6,470 AUD

Unit price

per

Regular price

Sale price

$4,300 AUD

Unit price

per

Regular price

$0 AUD

Sale price

$128 AUD

Unit price

per

Regular price

$0 AUD

Sale price

$108 AUD

Unit price

per

Regular price

$0 AUD

Sale price

$78 AUD

Unit price

per

Regular price

$0 AUD

Sale price

$89 AUD

Unit price

per